About Ulaanbaatar

Ulaanbaatar, the capital of Mongolia resides on the banks of river Tuul. It was founded in 1639 as the center of Buddhism and has since grown to reflect a mix of ancient traditions, Buddhist rituals, and modern commerce and trade. It is the undisputed political, economic, and cultural hub of Mongolia. The capital is administrated in six districts (Sukhbaatar, Khan-Uul, Chingeltei, and Bayangol) and three satellite towns of Nalaikh, Baga Khangai, and Baganuur.

As of 2021, Ulaanbaatar's population was estimated at 1.615.000 residents. The first foundation stone of the future capital of Mongolia dates to 1639 at a locale in present-day Arkhangai aimag.

The history of Ulaanbaatar is divided into two periods one between 1639 - 1778 when it was moved frequently and the other one starting in 1778 when it was settled in the present site of Ulaanbaatar on the bank of the river Tuul. The capital was named Urgoo (Palace) later to become Ulaanbaatar (Red Hero).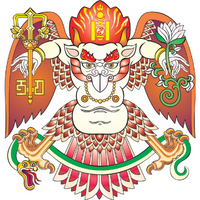 GARUDA – SYMBOL OF COURAGE (EMBLEM OF ULAANBAATAR)
The legendary bird - Garuda has been chosen as the emblem of the Mongolian capital and symbolizes courage and honesty, according to Mongolian beliefs. On the forehead of the Garuda are the Soyombo symbols also found on the national flag of Mongolia.

The Garuda bird is depicted holding in its right hand a key that symbolizes prosperity and openness and in the left hand – a lotus flower, a symbol of equality and purity. It is depicted holding in its feet a snake meaning that everything evil and bad will not be tolerated. The city of Ulaanbaatar has its own flag of sky blue with the Garuda bird in the center.
ACCOMMODATION
There are several international standard hotels that meet the needs of savvy and sophisticated travelers such as Shangri-La, Kempinski Khaan Palace, Holiday Inn, ibis Styles Ulaanbaatar, Novotel, Ramada, Tuushine Best Western, and a number of domestic boutique hotels such as Chinggis Khaan, Bayangol, Ulaanbaatar, etc. that give an authentic Mongolian flair. The accommodation sector includes guest houses, hostels, and tourist camps on the outskirts of the city.